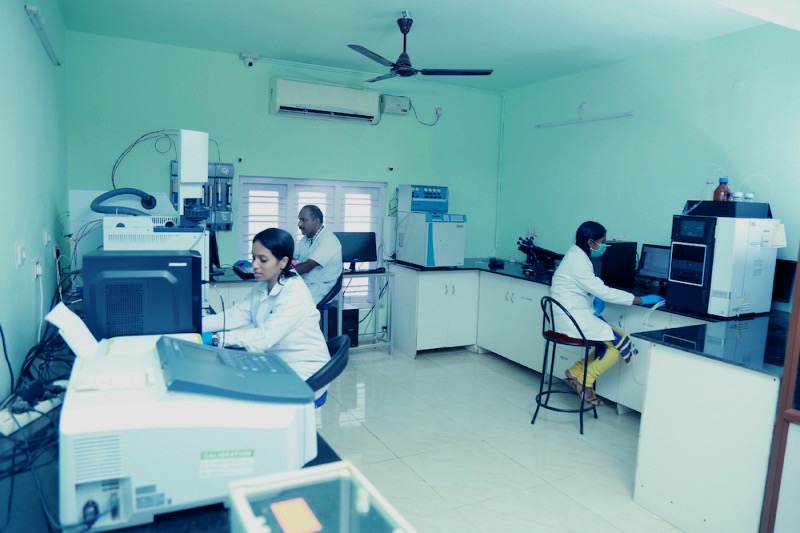 Quality Assurance
We are committed to producing safe and quality products which conform to all regulatory requirements ensuring the highest food safety standards. We accomplish this by implementing the Food Safety System, Hazard Analysis And Critical Control Points (HACCP) and other stringent tests. This ensures that the product is completely safe for human consumption.
All the products which we receive, store, ship and distribute are under good sanitary conditions and does not expose to the risk of contamination Adequate information and training are provided to all the employees for implementing good hygiene practices and good housekeeping.

Employees comply with all facility safety policies and procedures.

Suppliers and contractors adhere to all company standards and procedures.

Our systems are reviewed annually to achieve continual improvements by setting measurable objectives.
Laboratory and In-Process Quality Control (IPQC)
Our Quality Control Division plays a key role in delivering products that exceed customers' expectations aiding us to stand prominent in the Global market. Our QC Laboratory is equipped with Advanced Sophisticated Instruments like HPLC, GC, GC Headspace, UV-VIS Spectrophotometer, Polarimeter, Refractometer, and many other laboratory instruments. Full Quality Control checks are performed for raw material to ensure the materials we receive are of high purity and meet all stringent quality parameters.
We follow analytical methods such as ASTA, USP, AOAC, EP and in-house validated methods.
Quality Assurance Department
Quality Assurance department works in hand with the Quality Control department in assuring to deliver safe and high quality products to the customers. QC is keenly involved in the following activities -
Food Safety and Quality Systems
Good Documentation Practices
Standard Operating Procedures
Good Documentation Practices
Traceability
Statutory Compliances
Risk Analysis and Prevention of the Hazards
Certifications
Our Pledge to Quality
Hygienic practices are implemented from procurement of raw material to the final delivery.